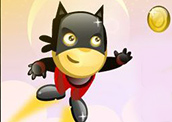 Weirdville
Help the masked hero overcome all the obstacles on his way.

At each level you have to reach the red sign by having collected the maximum of coins to earn points.

You can push some blocks and thanks to bubbles stay under water (but this will removes the possibility of making big leaps with the trampolines).

Move with the arrow keys and use the "K" key to kill.

Have fun!