Click 'Allow' to play Super Fighters Ultimate!
Click the Lock icon and change Block to Allow to play Super Fighters Ultimate.
1. Click the
or
-icon top left in the Chrome address bar.
2. In the Flash dropdown, select '
Allow
'
3. Refresh the page.
Click 'Always allow' to play Super Fighters Ultimate!
Allow button not appearing? Click here »
If you don't see the Flash option above, you can still enable Flash as follows:
Open a new tab and go to
Change Block (default) to Allow in the Flash section
Reload the page
This game is using Flash! After the 31st of July 2019, your internet browser might start blocking Flash, especially if you use Google Chrome. This means you'll have to activate it to play this game.
2 PLAYER GAMES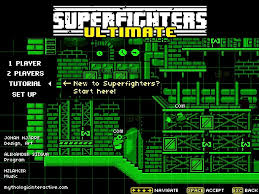 Super Fighters Ultimate
Super Fighters Ultimate is continue their fight game chapter. Once again, you are going to fight against your opponents in different types of maps which are harder than ever and try to complete the chapter by surviving in the end of the game. To illustrate, this chapter comes with some new features: guns, new maps and new characters. Call your friend right now and enjoy playing as 2 players. If you new to this game, try the tutorial mode first. After you get used to it, play in 2-player mode will be a better choice than the other. The instruction below will help you remember how to fight. Have fun!
Game controls:
- Player 1:
Move: "ARROW KEYS"
Melee: "N"
Shoot: "M"
Grenade: ","
Powerup: "."
- Player 2:
Move: "W,A,S,D"
Melee: "1"
Shoot: "2"
Grenade: "3"
Powerup: "4"
Super Fighters Ultimate Reviews