Click 'Allow' to play Stick Wars Game!
Click the Lock icon and change Block to Allow to play Stick Wars Game.
1. Click the
or
-icon top left in the Chrome address bar.
2. In the Flash dropdown, select '
Allow
'
3. Refresh the page.
Click 'Always allow' to play Stick Wars Game!
Allow button not appearing? Click here »
If you don't see the Flash option above, you can still enable Flash as follows:
Open a new tab and go to
Change Block (default) to Allow in the Flash section
Reload the page
This game is using Flash! After the 31st of July 2019, your internet browser might start blocking Flash, especially if you use Google Chrome. This means you'll have to activate it to play this game.
2 PLAYER GAMES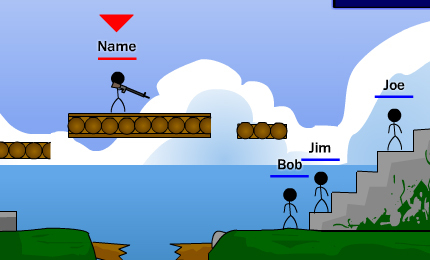 Stick Wars Game
In this Stick Wars Game, all controls are listed at the bottom of the screen. Territory WAR faces two teams of players against each other in a turn-based fashion.
The two corners above displays the team name, players remaining on the field and collective team health. The left corner of the bottom area display the information about the currently active player meanwhile the right corner displays the game options, from here, you can both quit the game or view the map.
When the turn is yours, there are two options to select: move and stay. If you choose to move, remember that you can just move a limited amount of stickman. Then, whether you stay or are done moving, the attack options will be appeared. All attack options (and other options for that matter) can be directly accessed with keyboard shotcuts. Just look for the number in the top left.
- Genades can bring about heavy damage and hit far targets.
- The gun only hits one target but with accuracy can cause an instant kill headshot (target player must be below half life)
- The boot causes very little damage but can knock someone off the stage for an instant kill
Unclock more stages and hats by playing the missions and challenges. That's all you need to know. Now get playing!
Stick Wars Game Reviews