Click 'Allow' to play Sports Heads Football 2!
Click the Lock icon and change Block to Allow to play Sports Heads Football 2.
1. Click the
or
-icon top left in the Chrome address bar.
2. In the Flash dropdown, select '
Allow
'
3. Refresh the page.
Click 'Always allow' to play Sports Heads Football 2!
Allow button not appearing? Click here »
If you don't see the Flash option above, you can still enable Flash as follows:
Open a new tab and go to
Change Block (default) to Allow in the Flash section
Reload the page
This game is using Flash! After the 31st of July 2019, your internet browser might start blocking Flash, especially if you use Google Chrome. This means you'll have to activate it to play this game.
2 PLAYER GAMES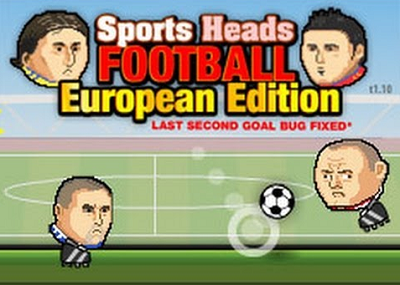 Sports Heads Football 2
Let's go to the second version of Sports Heads Football with new football clubs - those ones you love. Have fun with the game!

Game controls: After you assign 1st and 2nd player styles, press Space bar to begin the game
- Player 1:
W,A,S,D to move
Space bar to kick
- Player 2:
Arrow Keys to move
P key to kick
Hunting power-ups with the ball will affact the game in various ways:
- Geen color: speed boost; increases jump; ices opponent, preventing movement; big goal; grow; breaks your leg
- Red color: decrease soeed; decrease jump; ices yourself, preventing movement; small goal; shrink; breaks opponents leg
- Yellow color: bombs; dull ball; big ball; bouncy ball; small ball; streaker

Upgrade your player! Make yourself big at the touch of a button!
Sports Heads Football 2 Reviews