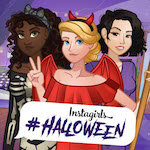 Instagirls Halloween Dress Up
Dress up with your girl friends to join the Halloween party at the weekend. Choose your favorite Instagirl and make up for her. After choosing the right outfit which is the same with the goals of Instagram, you can earn a number of hearts emotion which are from people like you. Then, you can use those hearts to make a new look to finish the next goal. Simple, isn't it? You can learn how to dress up like a sexy girl, a princess, a hot girl at the the party. You can also play Instagirls Halloween Dress Up with your friend because after all, these are all girl stuffs. Make the best performance of this Halloween and may be you can mix some in these closets to create one of your own in the real life.
Game controls: use your mouse to play the game
Have fun with the game!
Instagirls Halloween Dress Up Reviews