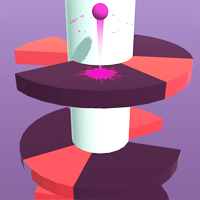 Helix Jump
Helix is the name of a ball that is on an adventure through spherical cylinders, where there will be many levels that Helix needs to get through! However, unlike other fun adventure games, in Helix Jump, our ball needs to go from the top to the bottom!
Slide through the gap in the cylinder to go down.Oh and remember to watch out for other colored boxes. Because they will cause the Helix to explode and you will lose the game immediately. Use your flexible skill to master this game.
Your goal in Helix Jump game is to score lots of points
Game controls:
Use left/right arrow keys to make the platform turn to left/right
Have fun!
You can discover more skill games here
Helix Jump Reviews