Click 'Allow' to play Gun Mayhem 2!
Click the Lock icon and change Block to Allow to play Gun Mayhem 2.
1. Click the
or
-icon top left in the Chrome address bar.
2. In the Flash dropdown, select '
Allow
'
3. Refresh the page.
Click 'Always allow' to play Gun Mayhem 2!
Allow button not appearing? Click here »
If you don't see the Flash option above, you can still enable Flash as follows:
Open a new tab and go to
Change Block (default) to Allow in the Flash section
Reload the page
This game is using Flash! After the 31st of July 2019, your internet browser might start blocking Flash, especially if you use Google Chrome. This means you'll have to activate it to play this game.
2 PLAYER GAMES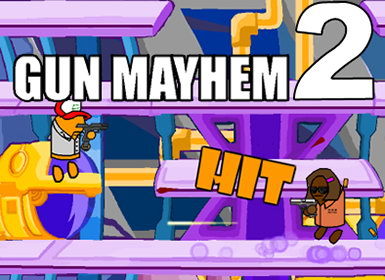 Gun Mayhem 2
Shooting with more excitement in Gun Mayhem 2 !!!! There are several modes you can select such as Campaign - fight against the AI in a series of missions (co-op available), Custom game - play a custom game with up to 4 players and Challenges - test you Gun Mayhem skills with these challenges. Moreover, you can also view all the weapons in Weapon library and edit controls, quality, sound at Options. In the game, you will have a number of lives and when you use up, the game will end immediately and you will lose. To improve the winning chance, you should collect as many as possible the advantegous items which are falling from the sky, it can be a brand new gun with more power or just add a shield to protect yourself from the opponent's attacks. Remember to make your enemy fall out of the platform so that you can win the round. Have fun with the game!
Game controls:
- 1st Player:
Movement: Arrow Keys
Fire: Z
Bomb: X
- 2nd Player:
Movement: W,A,S,D
Fire: T
Bomb: Y
Gun Mayhem 2 Reviews