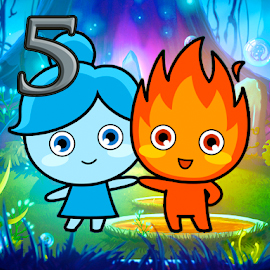 FIREBOY AND WATERGIRL 5: ELEMENTS
Are you ready to go deep down in the mysterious temples one more time? Continue the adventure with FIREBOY AND WATERGIRL 5: ELEMENTS, help the couple escape from all the traps and maze-like levels. You will face many obstacles such as lava pools, water puddles, buttons, levers, platforms, and many other different challenges. If you want to win, you will have to collaborate with your friend to get over those obstacles. Let start the adventure right away!
Game controls:
Use the arrow keys to control Fireboy and the W,A,D keys to control Watergirl.
Choose your favorite character and start the game with your friend now!
FIREBOY AND WATERGIRL 5: ELEMENTS Reviews