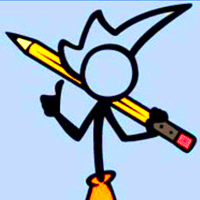 Fancy Pants 3
Hey Fancy Pants man! The King needs you! Angry Bathtub Pirates have commandeered the royal tub! He needs you right away! Jump out of the bed immediately!Listen up, Pants Man! Before starting the real fight, you have to be trained by an old soldier to make sure you are still in tip top condition for your latest adventure!
Firstly, press S to jump and collect the squiggle as many as possible.
Sometimes, jumping alone is not enough. Use your momentum while jumping and you will be able to jump on higher places!
While stomping is your most basic attack, if you want to try something fancier, you can hold down while running to slide into a baddie. Or, you can hold down while landing to perform a boost slide. However, I always boost when I slide!
Hold towards the wall to start wall jumping, once you can do it, you can let go of the arrow keys/controls stick, and just keep pressing jump.
Try pressing different directions when hitting jump. Yup, you guessed it, I don't need to press anything ever!!!
You do remember how to wall run, don't you? Hold up while jumping on a wall or run straight up a slant! Well, I guess you can teach the old man new tricks. Now go forth and be fancy!
Fancy Pants 3 Reviews