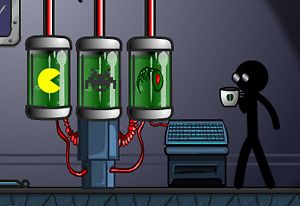 Causality - Stickman Isolation
Welcome to Causality - Stickman Isolation game! This is a very logical game which test your brain a lot. Your mission is kill all stickman on the spaceship without letting them see each other's death and bring the alien to the Earth. You have to use your knowledge to solve all the quiz in the game, use the tools which will help you complete the mission. If you feel this game is too hard to win, you can search for the solution on youtube but that will make the game less interesting. Let's see how smart you are.
Game controls: Use mouse to make causes.
Causality - Stickman Isolation Reviews