Click 'Allow' to play Anchovy Assault!
Click the Lock icon and change Block to Allow to play Anchovy Assault.
1. Click the
or
-icon top left in the Chrome address bar.
2. In the Flash dropdown, select '
Allow
'
3. Refresh the page.
Click 'Always allow' to play Anchovy Assault!
Allow button not appearing? Click here »
If you don't see the Flash option above, you can still enable Flash as follows:
Open a new tab and go to
Change Block (default) to Allow in the Flash section
Reload the page
This game is using Flash! After the 31st of July 2019, your internet browser might start blocking Flash, especially if you use Google Chrome. This means you'll have to activate it to play this game.
2 PLAYER GAMES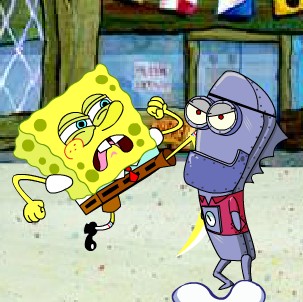 Anchovy Assault
Have you watch the SpongeBob movie? Do you like him? If you are a big fan of this series, you will even love it more in video game name Anchovy Assault. In the game, will take a role as SpongeBob, Squidward, or Mr. Krabs and your mission is to prevent Plankton's robot anchovies from reaching the Krusty Krab. Choose your favorite type to play among these two: free play and contest. In detail, if you select free play mode with 1 player, your goal is to kick the robot anchovy as far as possible; however, you can play with your friend in 2-player mode and the one get the further distance will win after all. In particular, once you decide to play in the contest, you will have to achieve a certain distance to progress.
Game controls: You will understand the game more while playing, the rule is simple, pressing the spacebar as fast as possible
Anchovy Assault Reviews