Click 'Allow' to play 2048 2 Player!
Click the Lock icon and change Block to Allow to play 2048 2 Player.
1. Click the
or
-icon top left in the Chrome address bar.
2. In the Flash dropdown, select '
Allow
'
3. Refresh the page.
Click 'Always allow' to play 2048 2 Player!
Allow button not appearing? Click here »
If you don't see the Flash option above, you can still enable Flash as follows:
Open a new tab and go to
Change Block (default) to Allow in the Flash section
Reload the page
This game is using Flash! After the 31st of July 2019, your internet browser might start blocking Flash, especially if you use Google Chrome. This means you'll have to activate it to play this game.
2 PLAYER GAMES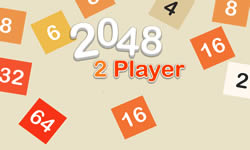 2048 2 Player
Have you heard about 2048 game? This has been the most popular game recently but it is usually played in single player mode. However, the 2-player mode is now available and you can play both modes in this version. The rule is arranging numers to get the total number 2048. Let's get competition with your friend to find out the winner. It is all about your IQ and it can be seen as a tool to check how smart you are. If you do not believe it, click to play!
2048 2 Player Reviews