Click 'Allow' to play Electric man 2: HS!
Click the Lock icon and change Block to Allow to play Electric man 2: HS.
1. Click the
or
-icon top left in the Chrome address bar.
2. In the Flash dropdown, select '
Allow
'
3. Refresh the page.
Click 'Always allow' to play Electric man 2: HS!
Allow button not appearing? Click here »
If you don't see the Flash option above, you can still enable Flash as follows:
Open a new tab and go to
Change Block (default) to Allow in the Flash section
Reload the page
This game is using Flash! After the 31st of July 2019, your internet browser might start blocking Flash, especially if you use Google Chrome. This means you'll have to activate it to play this game.
2 PLAYER GAMES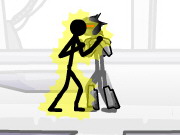 Electric man 2: HS
Welcome to the Electric Man 2: HS, tournament of Voltagen, in which combat teams of varying numbers compete against each other to determine the most powerful being in the stickman universe. This sequel of the original Electric Man brings you more stickman fighting fun than any game before. You will need a combination of martial arts, street fighting, and superhuman powers to wipe out your opponents. In this game, running whole executing a move will create a new attack. Slow motion attacks and flipover throw (Press D when you are running) which will raise your battery points.

Game controls:
Press Q: Slow motion punch moves
Press W: Slow motion kick moves
Press E: Slow motion grab moves
Press A: Punch moves
Press S: Kick moves
Press D: Grab moves
Press arrow keys: run left,right and dodge


Enjoy the game!
Electric man 2: HS Reviews